St. Louisans know what it takes to cheer for a hockey team.
But when we bellow "Let's go, Blues!" do we really know what it takes to make the blues, well, go?
A new traveling exhibition at the St. Louis Science Center will help visitors learn about the science behind the sport. "Hockey: Faster Than Ever" is on view April 1-Sept. 5.
It's the first sports-themed attraction to visit the museum in more than 15 years. This will be the second stop for "Hockey," which debuted last summer at the Pacific Science Center in Seattle.
When St. Louis Science Center employees learned about the exhibition, they knew it had to come here. They worked to incorporate special Blues touches, including lots of memorabilia.
But the science comes first.
"It's not a Blues exhibition; It's about the history and science, the technology of hockey in general, "says Jackie Mollet, managing director of visitor services. "But knowing that St. Louis has a huge hockey fan base and interest, we thought this would broaden our audience appeal."
So what makes hockey happen – and keep players like the Blues going faster than ever? Advances in equipment keep people and pucks moving.
Frank J. Zamboni developed the first ice-resurfacing machine in 1949. The eponymous tractorlike machine smooths the ice to create less friction on the puck and players' skates. Visitors to the St. Louis Science Center can hit the (artificial) ice to see how pucks travel across smooth and not-so-smooth surfaces. They can even pose with a real Zamboni.
Many science center staffers, such as Mollet, are Blues fans themselves or have connections to collectors.
"Those production guys have been really driving the narrative of the local connection," she says. "They're like,' Hey, we know this stuff. Get out of the way – we're gonna do it. '"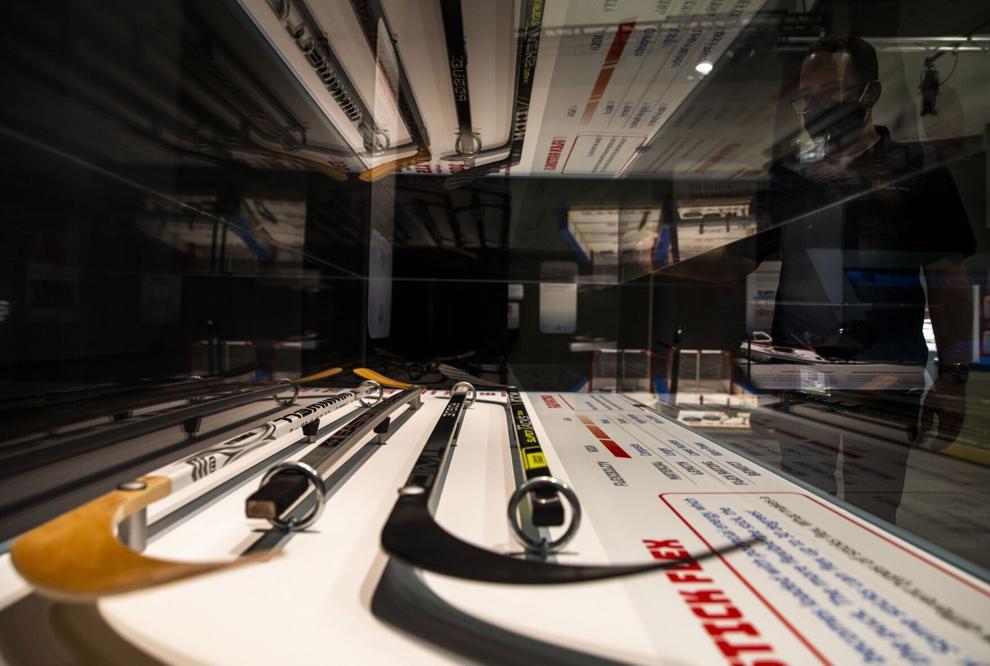 The Blues memorabilia on display includes hockey sticks used by 10 players during the 2019 Stanley Cup final; seats and bricks from the old St. Louis Arena (which stood in the shadow of the St. Louis Science Center); jerseys from Bobby Plager and Barclay Plager; as well as Bobby Plager's game-used gloves, shoulder pads and his travel equipment trunk, dinged and dusty from use.
The exhibition includes a basic history of hockey and its origins. Stick-and-ball games have been played for thousands of years. An Iroquois saying "hoghee" during one of those games may be the origin of the sport's name.
What does "hoghee" mean? "It hurt."
Early players strapped animal bones to their feet and may have hit square blocks of wood or rubber – or even pucks of frozen animal dung. (Fortunately, the dung on display is fake.)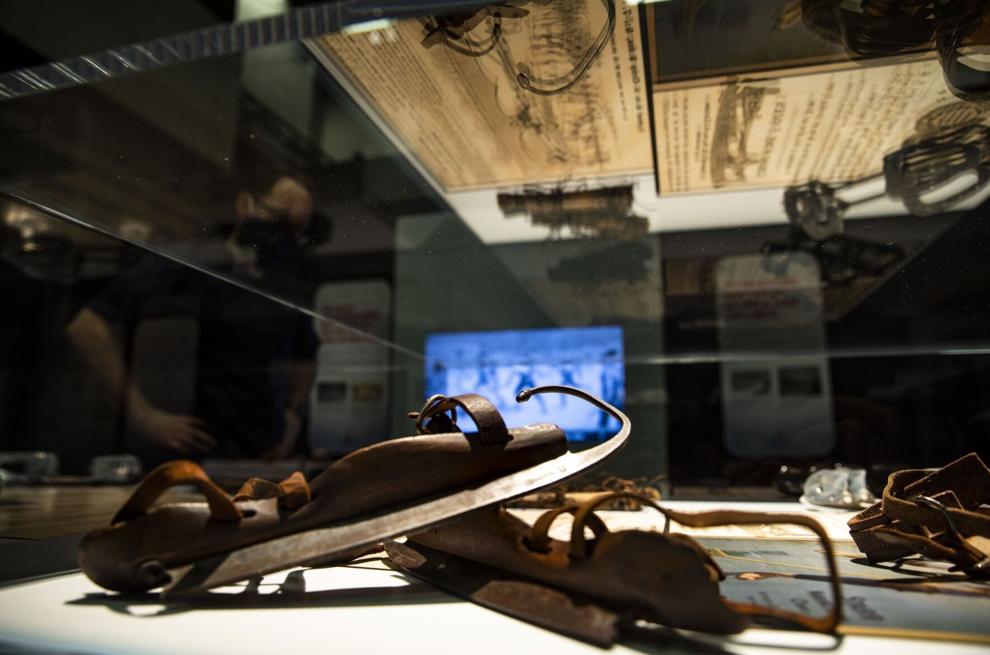 Earlier sticks were carved from wood. The curved blade debuted in 1927 and allowed
players to lift the puck off the ice, drastically changing the game and making goalie face masks necessary.
Neville Crenshaw, manager of special exhibitions and featured experiences for the St. Louis Science Center, isn't a big hockey fan himself but has enjoyed learning as he helped tailor the exhibit for local audiences. The history and science of the sport will draw all kinds of people, he says.
"This has been a great way to step into it, starting with the history," Crenshaw says. "As it will be for guests who are normal science center visitors who are looking for a way to get into this, but also the sports fans who know a lot about hockey but who may not know a lot about players outside of the Blues."
Visitors can press levers to test the flexibility and strength of different hockey sticks – such as wood, metal and fiberglass – and learn how the flex of a stick transfers potential energy to a puck. They can also stand on balance boards, feeling their core muscles tighten as they hold steady.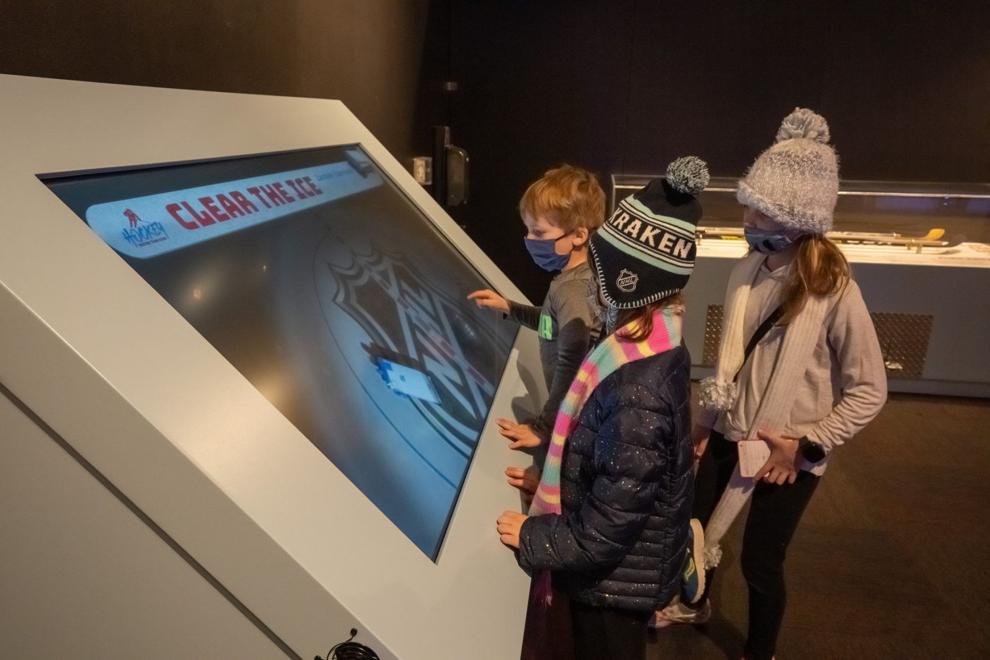 An oversized touch screen lets visitors be the ref, watching plays on the ice and choosing the correct penalty.
Speaking of penalties, there's also a penalty box for visitors to sit in. If they press a blue button and look up, they will see their dejected mug on the jumbotron.
Visitors can shoot pucks at goals and see how fast they traveled, competing for the day's highest score. More advanced players can aim for designated spots to test their accuracy.
Throughout the exhibition, visitors can fill out a scorecard and track their stats. There's also a little mathematics lesson and an explanation of analytics in hockey.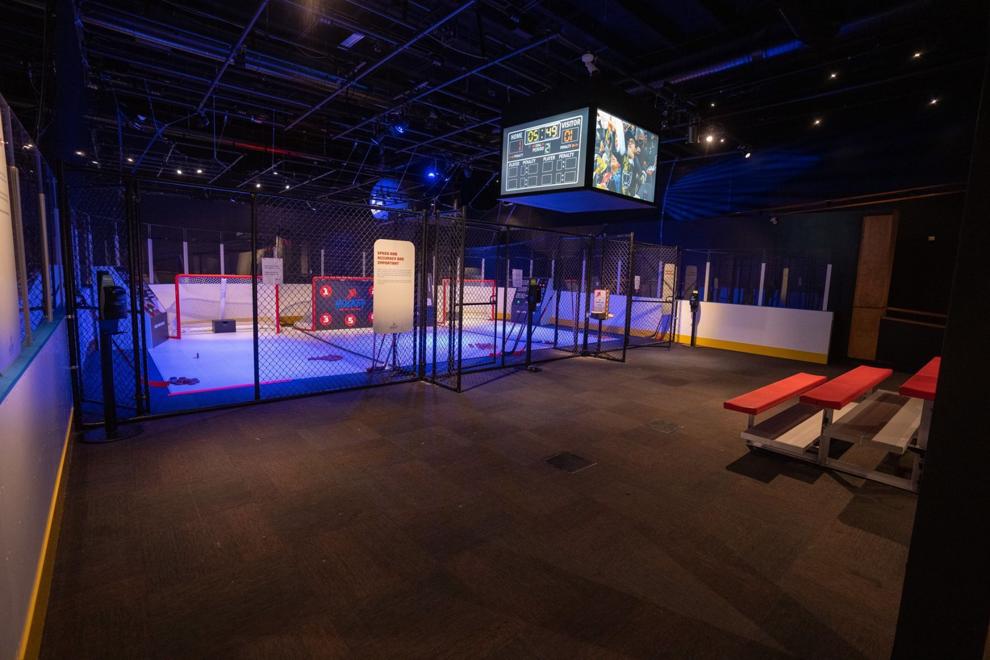 Visitors who prefer spectating can sit on a set of red bleachers. They might even get caught on the "kiss cam." There's also bubble hockey and electronic air hockey for rec-room athletes to check out.
A digital scan of the Stanley Cup allows visitors to zoom in and find the names of their favorite players – and see the dents, scuffs and engraving flaws.
"This is not precious like a lot of trophies are," Crenshaw says. "But I think it's cool because it's the hockey way. It's a rougher sport. "
The St. Louis Science Center is exploring partnerships with youth hockey clubs and would like to bring in Blues players for visits.
"So many people watch a sport like hockey, and they don't think about the amount of planning and engineering it takes to make the players safe, to make them fast, to make it watchable at home," Crenshaw says. "I think this will be an eye-opener for people who are like, 'Oh, I don't see that science is for me, but actually it is because it helps make my favorite sport possible.'"
What "Hockey: Faster Than Ever" • When April 1-Sept. 5; hours are 9:30 am-4: 30 pm Monday and Thursday-Saturday, 11 am-4: 30 pm Sunday • Where St. Louis Science Center, 5050 Oakland Avenue • How much $ 14.95- $ 16.95, free for children 4 and under • More info slsc.org
.